Customer success story
From a local startup to global success
Industry

Shared Mobility
About

ATOM empowers entrepreneurs to launch their own vehicle sharing platforms.
Type

B2B2C
Website
---
Key results
Unified, customizable invoicing solution
Easy high-volume invoicing
Seamless integration, high customer satisfaction rate
The shared mobility company integrates Space Invoices to provide a convenient invoicing solution for their customers.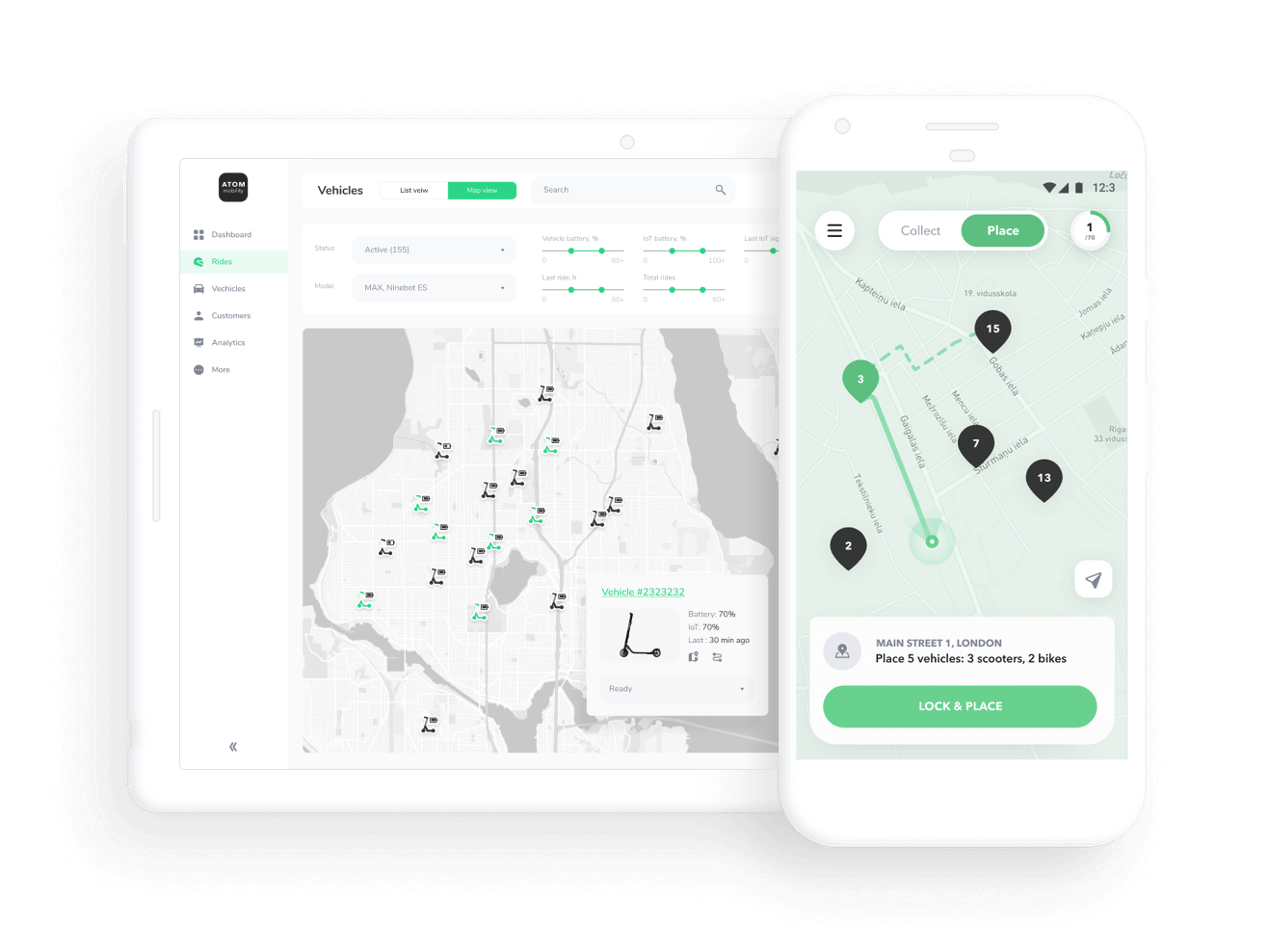 In 2019, ATOM Mobility set out on a mission to provide customers with an easy way to operate scooter sharing in Riga, Latvia. It was one of the pioneering micromobility companies in the Baltics and their fleet management platform quickly skyrocketed. By 2021, ATOM's team had grown and they were determined to expand their B2B service to companies across the globe. Today they provide services in more than 90 cities worldwide, where businesses use ATOM's tech to operate shared mobility ranging from scooters, bikes and cars, to forklifts, golf carts and even boats.
The Challenge
Customized invoicing solution at a scale
As the number of customers' fleets and clients grew, so did their need for a unified invoicing solution with personalization and scalability. Companies running fleets of as many as a few thousand vehicles were issuing tens of thousands of invoices monthly, but found the existing invoicing platforms limited in features, customization and high-volume capabilities. Having an all-round flexible invoicing system thus became one of the most requested features. "At ATOM we had two choices, either squander valuable team resources and attempt to build our own invoicing platform, or partner with an existing player flexible enough to provide the necessary features at a scale. We decided for the latter and found a perfect partner in Space Invoices," remembers Arthur Burnin, the founder and CEO.
The Solution
Powerful, feature-rich invoicing integration
Space Invoices provided a robust SaaS API solution. "Space Invoices developer API was easy to integrate into our software platform. Its straightforward and effective user interface, backed by prompt customer support, proved invaluable to us. It just works – integrate it and forget about it," Burnin notes. "It introduced convenient cross-border and tax-compliant invoicing functionality, along with fiscalization, multi-language support, and the option of branding and customizing the invoices," continues Burnin.
This also allowed ATOM's developers to continue focusing on developing critical features for ATOM's own platform, rather than worry about an invoicing system. Moreover, if clients ever request any tweaks to the existing invoicing functionality, those can be easily implemented with the help of customer service from the Space Invoices team.
The Results
All-in-one solution for everyone
At first, a single customer with a fleet of a couple hundred vehicles adopted electronic invoicing via Space Invoices integration. Before long, many more were on board. "Customers are extremely satisfied with the feature-rich invoicing API with customization, automated invoices at a scale, and clear step-by-step documentation," explains Burnin. It is a hassle-free process for ATOM to create a Space Invoice account and link it with customer businesses. According to Burnin, "customers can now easily personalize invoices with brand recognition to their tastes by using various templates to change styles, colors, and text." Thanks to Space Invoices' multi-language and international tax-compliance capabilities, customers can also report invoices to authorities according to the local laws and regulations, among other features. Moreover, companies are now able to issue invoices at a scale with no limit, and invoices are created automatically.
Today, more than 30% of ATOM's customers rely on Space Invoices, issuing up to 300,000 invoices monthly during the busiest summer months. "We expect this number to triple this year, once we start to promote Space Invoices even more proactively," concludes Burnin.